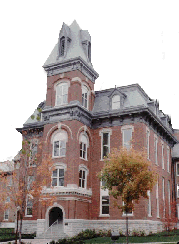 Franklin College provides young people with a quality, liberal arts education which stresses the importance of the classroom and the faculty-student relationship. Innovative programs like the Franklin College Leadership Program and the Professional Development Program are aimed at broadening students' horizons and encouraging them to challenge themselves.
Outside the classroom, Franklin College offers students a wide range of activities and events. Intramural sports, movies, lectures, nearly 50 clubs and organizations, student entertainment, board events and many other special offerings create a very busy schedule for members of the community. Most of these events are open to the public.
Enrollment is approximately 900 students and the financial endowment is in excess of $71 million. Alumni gifting is above the national average and there is strong support from the cities of Franklin and Greenwood as well as Johnson County.
The college had 56 full-time faculty and 30 part-time faculty in 1996-97. Forty percent of the full-time instructional faculty have a doctorate or the highest terminal degree in their field (1996 statistics). There is a 12.3:1 student/faculty ratio,
Franklin College offers 25 majors and 30 minors plus other pre-professional programs. The 4~1~4 academic calendar enables students to supplement their education with internship, travel or experience.
On the athletic front, Franklin's students compete in NCAA Division III. The college is also affiliated with the Heartland Collegiate Athletic Conference.
For more information please try www.franklincollege.edu
Franklin Community School Corporation (Serving Franklin)
Administration Building
998 Grizzly Cub Drive
Franklin, IN 46131
(317) 738-5800
High School:
Franklin Community High School
2600 Cumberland Drive
Franklin, IN 46131
(317) 738-5700
Middle School:
Franklin Community Middle School (grades 7-8)
Intermediate School:
Custer Baker Intermediate School (grades 5-6)
Elementary Schools:
Creekside Elementary School
Needham Elementary School
Northwood Elementary School
Union Elementary School
Webb Elementary School
St Rose of Lima Preparatory School (Private School)
114 Lancelot Drive
Franklin, IN 46131
(317) 738-3451