---
Who's Recycling?


The city of Franklin is proud to bring a residential recycling program to your neighborhood. Indiana's land fill crisis has made all of us aware of the need to protect our environment. This program gives everyone a chance to get involved.
Why Recycling?
Recent Indiana state law requires that all cities reduce their waste by 35% by

1996 and 50% by the year 2001. To reduce Franklin's annual average of 213,000 tons of residential trash, we are phasing in a recycling program to make recycling easier than ever.
Pickup Schedule


Click here for a map showing Franklin's trash collection days broken down by area.
What To Recycle?

---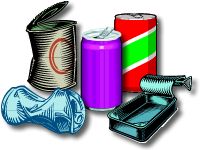 Cans
Soda and beer cans
Soup cans
Bean cans
Fruit and vegetable cans
Other aluminum, tin and steel cans
---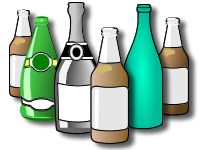 Glass
Soft drink bottles
Wine and beer bottles
Jelly jars
Spaghetti sauce jars
Other food and beverage bottles and jars
---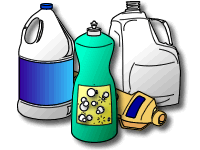 Plastic
Soda and water bottles
Peanut butter jars
Shampoo bottles
Milk jugs
Narrow-neck bottles
---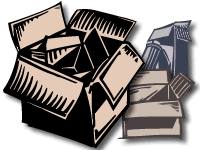 Cardboard
Only corrugated cardboard
Moving boxes
Shipping boxes
Cereal boxes
Pizza boxes
Shoe boxes
Beverage cartons (e.g. 6 or 12 packs)
---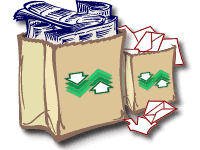 Paper
Newspapers
Magazines
Catalogs
Phone books
Junk mail
---
More Recycling Information
Garbage and recycling are picked up on the same day.


Please place all garbage and recyclable at the curb the night before pick-up or by 7:00 a.m. the day of service.


Pick-up days for Memorial, Independence, Labor, Thanksgiving, Christmas, and New Years days will be listed on this web site HERE.


Heavy trash pick-up days are provided monthly; the week of the first Monday (Monday-Friday) of each month.


Bulk or heavy items for disposal during heavy trash service that can be placed at the curb on the day of your normal pick-up include such items as stoves, washing machines, large furniture, metal appliances, trees and limbs, etc. Not included are construction or demolition debris and car parts with fluids.

Collection Guidelines




Any missed collection or complaints may be reported by calling Ray's Trash Service at 1-800-531-6752. Missed collection will be serviced no later than the following day.


Household hazardous wastes, unquartered tires, lead acid batteries, and items containing chlorofluorocarbons (CFC's) i.e., refrigerators, freezers, air conditioners, or ice makers, cannot be collected due to EPA regulations.


Items containing CFC's can be disposed of by contacting a local appliance recycler. Or, contact a local heating and air conditioning company for removal of freon from the appliances. After CFC's removal is certified, the item can be placed at the curb for heavy pickup.